Training HAZOPS Sertifikasi BNSP (Hazards and operability studies)
Training hazops Sertifikasi BNSP are intended to:
Give an appreciation of the risk management process to position HAZOP within that process
Provide an in-depth understanding and experience of the various HAZOP techniques and their correct application
TRAINING HAZOPS PROGRAMS
• Introduction and course objectives
• Basic introduction to the risk assessment process
• Different hazard identification techniques
• Hazard & Operability Study: Basic Concept & Methodology, Terminology
• The role of the chairman, secretary and the team members
• Risk ranking at the HAZOP study
• HAZOP process in detail including the follow-up and review process
• Detailed look at the HAZOP process
• Introduction to technique for procedural HAZOP
• Procedural HAZOP exercise including discussion of results
• HAZOP actions/recommendations and HAZOP reports
• Introduction to the HAZOP 2 technique
• Advantages and disadvantages of the HAZOP technique
• Pointers for effective HAZOPs
• Course review including question and answer session
Kompetensi Training Hazops mengacu pada kode unit kompetensi SKKNI no. 248/MEN/V/2007:
| | | |
| --- | --- | --- |
| No | Kode Unit | Judul Unit |
| 1 | IMG.KK02.018.01 | Menganalisa resiko kecelakaan kerja |
| 2 | IMG.KK03.003.01 | Menerapkan study HAZOP di tempat kerja |
Persyaratan Uji Kompetensi Anggota Studi HAZOPS:
Minimal Pendidikan D3 Teknik,
Pengalaman kerja minimal 2 (dua) tahun.
Pengalaman melakukan studi HAZOPS.
WHO SHOULD ATTEND THIS TRAINING HAZOPS?
This Hazops Training are aimed at managers, designers, plant operators, safety specialists and all those concerned with the safe and efficient performance of potentially hazardous Plant and operations.
HAZOPS TRAINING DURATION
21 hours effective ( 3 days)
TRAINER
Ir. Suhatri Agus
Beliau berpengalaman dalam bidang teknik dan HSE selama lebih dari 30 tahun, dengan background pendidikan Teknik Industri dan Teknik Elektro. Pernah berkarir selama 33 tahun di PT. Caltex Pasific Indonesia dimana selama kurun waktu tersebut beliau pernah menjabat sebagai Safety Health And Environment Compliance Coordinator. Banyak mengikuti berbagai training HSE di dalam dan luar negeri. Beliau juga pernah menjadi dosen pada tahun 1990-1997 di Akademi Teknik dan Management Industri di Dumai.
Pada tahun 2012, beliau menjadi tim penyusun SKKNI Confined Space DEPNAKER Pusat Jakarta. Project yang pernah ditanganinya diantaranya adalah team konsultan LPG Loading/ Unloading facilities (PERTAMINA), LOPA & SIL di Talisman Energy, Hazops Leader untuk Hazard Operability study (HAZOPS) on Sheedgum Gas Plant ARAMCO (Arab Saudi), dan menjadi konsultan QHSE Management System on TIMORGAP (Oil Company) – Timor Leste.
JADWAL TRAINING HAZOPS 2017
BSD Serpong, 14 – 16 Februari 2017
BSD Serpong, 11 – 13 April 2017
BSD Serpong, 8 – 10 Mei 2017
BSD Serpong, 14 – 16 Agustus 2017
BSD Serpong, 21 – 23 November 2017
BSD Serpong, 19 – 21 Desember 2017
INVESTMENT TRAINING HAZOPS
Rp. 8.699.000,- Rp. 7.499.000 (NEW PRICE)
Rp. 6.999.000,- (Pendaftaran & pelunasan 1 minggu sebelum training)
Gratis orang ke 5, untuk pendaftaran 4 orang dari satu perusahaan
Fasilitas Training: Modul Training yang berkualitas (hardcopy dan softcopy), Training Kit, Tempat training yg nyaman di hotel berbintang, Makan Siang, coffee / tea break, Sertifikat, Foto bersama seluruh peserta
Ujian Kompetensi oleh LSP ICCOSH
INFORMASI & REGISTRASI
PT. Phitagoras Global Duta Ruko Golden Boulevard Blok Q no 19, Jl. Pahlawan Seribu – BSD City Serpong, Tangerang Selatan 15322 Telp : 021- 71345910 (Agus) Fax : 021 53161424, Email: info@phitagoras.co.id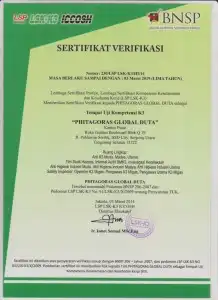 Training HAZOPS Sertifikasi BNSP